Smoke from wildfires has affected many Northern and Eastern areas of the United States recently. We've all seen the air quality alerts on our weather apps, read about it in the news, and seen the haze blanketing Cincinnati. But how concerned should we be?
As a pediatrician and researcher who has studied air pollution for the last 15 years, I think parents should consider the air quality index (AQI) as much as they do the temperature and heat index.
This is because the smoke from wildfires is hazardous for all of us to breathe – but it's especially dangerous for kids. Wildfires are likely going to continue to happen and climate change, one factor contributing to these fires, isn't going away either (at least, with our current approach to it). So, it's important to minimize our kids' exposure to wildfire smoke while still allowing them to play outside and live their lives.
WHY LIMIT KIDS' EXPOSURE TO WILDFIRE SMOKE
Limiting kids' exposure to wildfire smoke and air pollution is crucial because the toxicants in the smoke affect them more than adults. They tend to breathe faster than us, exchanging more air per body weight. In addition, because their lungs are still developing, exposure to the toxicants can have longer-term implications.
Wildfire smoke is dangerous because it contains the particulate matter PM2.5. The 2.5 is referring to the size – micrometers and smaller – of particles in the smoke that we inhale. To get a sense of how small these particles are, see the below picture from the Environmental Protection Agency (EPA). These very small particles get into our lungs, then our bloodstream and organs. The effects of inhaling these particles can include coughing, headaches, sore throats, and asthma attacks. They can also have a slow inflammatory response, meaning that we might not feel sick right away, but days later. Kids don't need to have an underlying lung condition like asthma to feel the effects, but those who do will be more sensitive to it.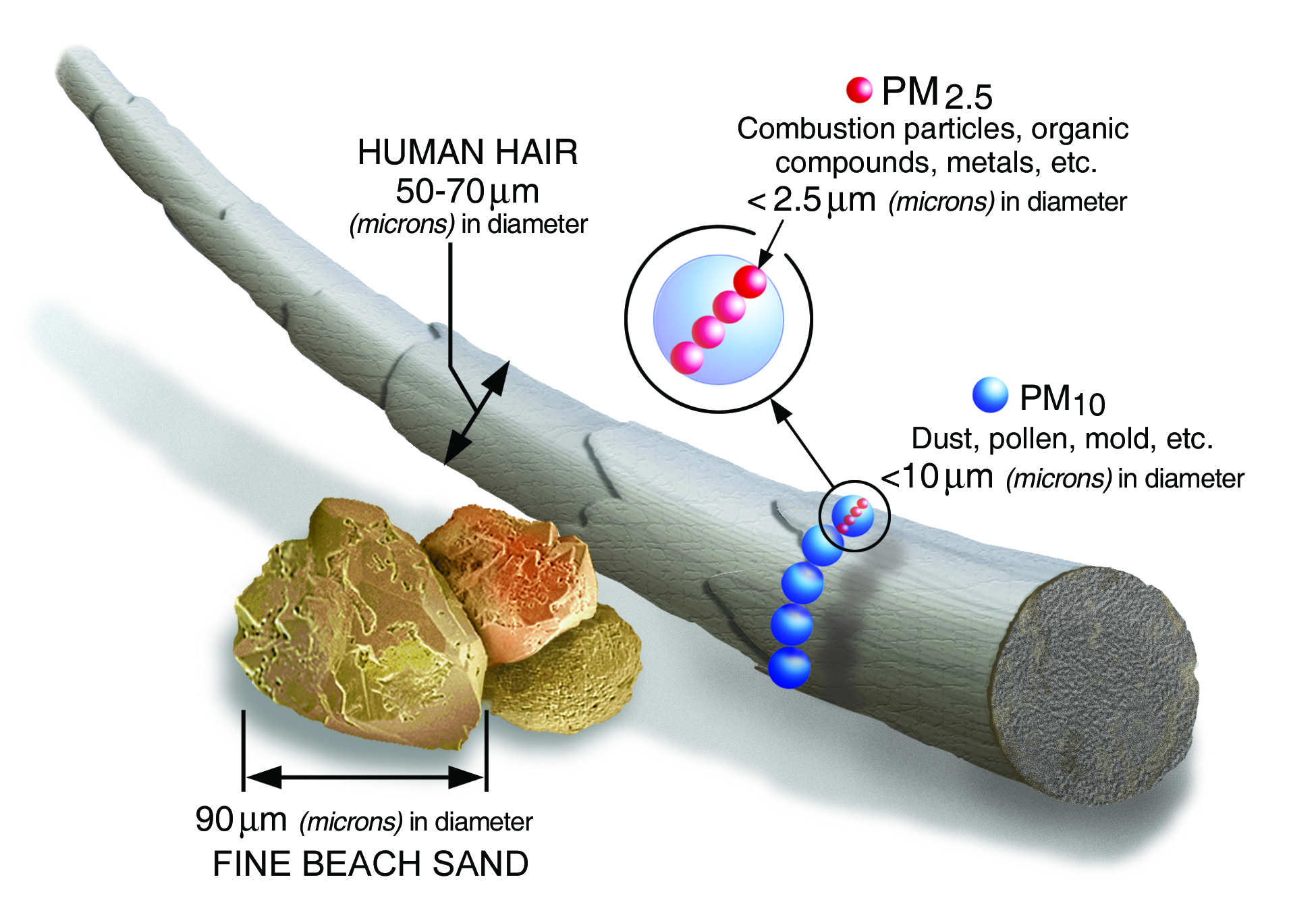 WHAT TO DO ABOUT IT
The way we deal with PM2.5 needs to be different than how we handle typical summer air pollution from ozone. With the ozone, it's safer to be outside in the early morning hours because it takes a few hours for exhaust from cars mixing with the heat and stronger sunlight of the day to create ozone. However, PM2.5 is different because it can be in the air all the time – the level doesn't necessarily change with the time of day or sunlight. In fact, with PM2.5 from wildfire smoke, the levels won't change until the prevailing winds blow it away.
The best way to limit exposure to PM2.5 is to keep an eye on the AQI via the EPA's Air Now website or smartphone app. I like this better than the air quality information in typical weather apps because it gives the "predicted" air pollution for the day to help me plan ahead. It also has detailed suggested actions in the app. The EPA's graphic below explains what the different AQI colors mean. In general, when the AQI is "orange" or worse, we should take action.
For example, if the AQI is "orange" and your child has asthma, keep their rescue medication nearby and monitor for symptoms. Go indoors if your child has symptoms like coughing or wheezing. If the AQI goes to "red", then consider moving all activities indoors.
Following the EPA's suggestions for staying inside with the windows closed when the levels get too high is a great start. To improve the air quality inside your home, avoid burning candles, smoking, or creating smoke when cooking. Exhaust cooking fumes if possible. Research that's been done here at Cincinnati Children's shows that HEPA filtration can reduce PM2.5 in homes and can improve asthma symptoms. Since HEPA filters can be expensive, EPA has directions for creating a DIY air cleaner out of a box fan, for those times when the outside air quality is particularly bad. Don't let the perfect be the enemy of the good; although we can never get rid of all the particles, these actions will decrease them and that's a good thing.
MASKING OUTSIDE?
A lot of people have asked me if it is effective to wear masks outside when the levels are in the unhealthy range. I explain that it depends on the mask and how old the child is. We know that N95 masks are effective at filtering air pollution, because they have been tested by the Centers for Disease Control and Prevention (CDC) and they have a tight seal with an effective filter. However, they're not made for smaller children. K95 masks do not fit as tightly and may not be manufactured to as high a standard. Finally, cloth masks and wet wash cloths are not effective at filtering wildfire smoke.
THE BOTTOM LINE
Air pollution and wildfires aren't going away, so we need to learn how to adapt. Paying attention to the AQI, just like we do with temperature and humidity, and taking simple steps as outlined above, can help us keep our lungs healthy and reduce the risk of long-term exposure.
To learn more about our Environmental Health and Lead Poisoning services, please call 513-803-3688 or email environmentalhealth@cchmc.org.